How digital health employee benefits create a more inclusive workforce
For an inclusive workforce, digital health is the answer.
An inclusive workforce is inclusive of all genders, all sexual identities, all ages and all abilities. It is inherently diverse. As such, it requires a personalised approach to employee wellbeing to ensure every colleagues' diverse individual needs are met. Digital health can allow for this.
Since Covid-19, these needs have never been more varied and urgent, yet an overburdened national health service is struggling to keep up.
In England alone, nearly 9% of the population was on a hospital waiting list in April.
Thankfully, digital healthcare providers that can reach colleagues wherever and whenever they need support are helping plug this gap – and enabling workforces to foster a stronger culture of inclusivity as a result.
Here are five ways technology is helping knit together a more united workforce at a time when, physically, we've never been more divided.
Digital health is more – not less – personal
With digital healthcare there's no need to take a one-size-fits-all approach.
When delivered online or via an app, support can be easily customised for an individual's unique needs. Every colleague feels included.
A simple questionnaire at the start of a Peppy user's journey, for example, tailors their whole home screen experience to their answers. Content is always relevant.
Digital healthcare should also never feel impersonal.
At Peppy, we connect you with a dedicated expert practitioner. This is a real person rather than an automated bot. They will listen to your concerns and can empathise with your specific situation.
Knowing there are frameworks to support all colleagues within an organisation can have a profound unifying impact on workplace culture.
In a recent survey we found 96% of employees would feel more positive about their employer if they were offered specialist fertility support#.
Similarly, a 2016 study on workplace inclusion found 72% of allies say they are more likely to accept a job at a company that is supportive of LGBTQ+ employees#.
Remote solutions make healthcare more accessible
While the jury is still out on remote working, remote healthcare is here to stay.
Why? Because it means colleagues that have to work from home should never feel cut adrift from the support provided in the office.
Parents forced to work from home to look after their kids. Colleagues with health issues better managed at home. Part-time workers and shift workers can now all enjoy the same benefits.
Embracing digital solutions also makes healthcare provision borderless, with flexible and work-from-anywhere habits on the rise, and future proof, in case another COVID variant surfaces.
With the right tech in place, everyone from shop floor to top floor should be able to access support, attend events, and manage collaborative working at any time, from anywhere.
Anonymity allows more people to get involved
It's a powerful tool in digital healthcare's arsenal.
An extra layer of discretion can help forge a greater bond of trust between an organisation and its people. It can encourage a more open dialogue.
Anonymity is especially effective for male colleagues, who excel at bottling things up.
Men are half as likely to take up talking therapies as women.
But by shifting to digital health solutions – such as Peppy's new Men's Health service, launching this autumn – men can get help anonymously.
Research suggests this increases a man's sense of autonomy and improves engagement.
Anonymity also means staff can answer surveys more honestly. This helps HR teams understand the gaps they need to fill with benefits and staff initiatives.
Digital health breaks down barriers 
Despite societal progress on taboo topics, common health issues such as menopause and infertility (which affects around one in seven couples) remain deeply sensitive issues.
Most workplaces simply aren't equipped to provide the level of support needed to guide colleagues through these testing times.
An estimated 3.5 million people will be going through menopause at work in the UK, with one in four experiencing severe symptoms, yet the majority are unwilling to raise related health problems with their line manager#.
85% of those undergoing fertility treatment say it affects their work, 13% reduce their hours and 6% leave their job#.
However, digital healthcare is helping break down these barriers by providing a platform where symptoms and solutions are better understood.
Safe and secure peer support groups, accessed virtually and monitored by an expert practitioner, will make it easier to open up about taboo topics.
Knowing others are facing similar challenges will help colleagues feel less isolated, better supported and more included.
59% of HR managers say offering fertility support helps recruit and retain top talent. Half say it's necessary to be recognised as a "best place to work".
Technology can plug gaps left by conventional healthcare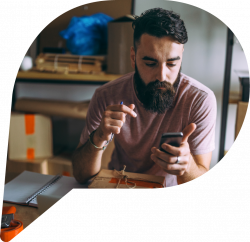 The pandemic has stretched an already creaking NHS to its limits.
It has forced the closure of several specialist clinics and created a mounting backlog of care that could take years to clear.
One estimate predicts up to 10 million people – 20% of the nation – will require new or additional mental health support as a direct consequence of the crisis.
Yet even before Covid, GP appointments were on average only 9 minutes long, among the shortest of economically advanced nations.
Given the broad nature of their role, GPs often lacked the specialist training required to support patients facing menopause, infertility and male urological issues.
This is where technology can plug the gap. Digital health platforms can provide the link to experts with more time, knowledge and resources to cover these underserved areas.
It is an affordable, easy-to-rollout solution for organisations to support all their people when it matters most.
"For us, Peppy truly spans all genders and supports far-reaching issues" – Theresa Winters, Culture & Employee Value Proposition Lead, Santander UK
Digital health is the future, but we must not leave people behind
Think evolution, not revolution.
A rise in digital health could cause a new wave of inequalities for those less tech-savvy or unable to afford the latest devices required to access these services.
Technology-led solutions also need to retain the nuance of human touch. Empathy, compassion and understanding cannot be coded or automated.
For digital health to work it will always rely on real, genuine human-to-human connection.
Are you making the most of digital health? 
Questions around diversity, equality and inclusion are high on every HR team's agenda right now. Digital health platforms like Peppy can provide some of the answers.
Are you making the most of digital health platforms to support your colleagues when they need it most? What can you do now – right now – to make your workforce more inclusive?
If you have questions, we have answers. Get in touch and we'll be happy to help you achieve your diversity, equality and inclusion goals through digital health solutions.
Peppy tips
Employers, don't think it's too late. 
Digital health care benefits have come a long way since the outbreak of the pandemic. They are here to stay post-COVID. Now, as we adjust to a new way of working, it is as good a time as ever to introduce them.
Colleagues, speak out.
If you've found a digital healthcare solution you think your employer should be offering, speak to your HR or Benefits team today. Let them know why. You are their priority. Let them know what you need.