Meet two women who took control of their menopause journey and are redefining life after menopause. 
Angela, 55, London
"When my menopause symptoms started around my 49th birthday I had blood tests, but I didn't need medical confirmation of what I was going through – at 48, I knew what night sweats and itchy skin meant! I was utterly miserable, especially as I wasn't sleeping much. But I didn't feel I could tell anyone at work. It was still a taboo subject back then.
At the time there was a lot of negative press about HRT being linked to breast cancer and when I mentioned it to my doctor, he advised against it. My partner was really understanding about the sweats – he even bought me a huge fan to keep by the bed to cool me down – but it was a colleague who helped the most. I've worked for a small marketing agency since my late 30s and when I opened up to her after a particularly distressing client meeting during which I'd had a very visible hot flush, she was very understanding. 
"I'd been terrified about opening up about the menopause and being seen as a liability at work, but in fact being honest about it ended up enhancing my career…"
She used to be a fitness instructor and knew that exercise would help balance my moods and reduce the symptoms, so we went running a couple of times together at lunchtime. She wanted to get fit again and I wanted to feel normal. Soon I was running on my own. That daily run made such a difference to my symptoms and the whole thing brought me and my colleague much closer. 
I'd been terrified about opening up about the menopause and being seen as a liability at work. But in fact, being honest about it ended up enhancing my career. No pay rises or anything, but when she got promoted, my colleague encouraged me to take on more ambitious projects and do some training courses to broaden my skillset. It's really boosted my confidence. So my advice to any woman going through the menopause is to find someone you can confide in at work. It's not taboo anymore. And thank heavens for that".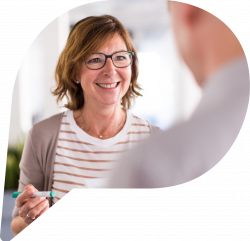 Steph, 56, Hertfordshire.
"I was in my early 50s working on a newspaper when suddenly the perimenopause kind of hit me. The hot flashes, the forgetfulness, the lack of sleep, the irritability – I went through them all. But the sweats were the worst thing. I'd be on the on the Tube and I'd literally think I was going to melt. I'd get to work in such a state, soaked with sweat. It was impossible to hide what I was going through from colleagues as we were a close-knit team. 
I was already feeling self-conscious about being at least 10 years older than everyone else, at a time when lots of redundancies were happening. I worried that being menopausal flagged to everyone that I was old and washed up. Jokes were made. One male colleague gave me a desk fan, which was actually quite embarrassing, even if it was kindly meant. It would sit there on my desk whirring loudly, and I hated the way it made me stand out. 
But my boss was brilliant. Luckily she's roughly the same age as me, and she really understood. She had just gone through it herself.  We weren't particularly close, but I just felt I could be matter of fact with her. She never made me feel bad about being forgetful or irritable. Especially when tests showed I had polyps in my womb and had to have time off for scans and biopsies, followed by surgery to have them removed. 
"I've never looked back…"
Unfortunately, the menopausal symptoms which had eased off came back again with a vengeance. So, at my gynaecologist's suggestion and with my husband's encouragement, I started taking HRT. Within a few days the symptoms had died down and since then I've never looked back.
I'm well aware how lucky I was to have a sympathetic boss who understood the symptoms, the anxiety over my health, and the need for time off for tests – she gave me plenty of flexibility. I've since gone on to write about the menopause, both as a journalist and a copywriter. It's important that women know it's not the end of the world and that with the right support – like I had – they can thrive".
Research from Bupa has shown that almost a million women have left their job because of menopausal symptoms such as hot flushes, night sweats and increased anxiety, while others are forced to take long-term absence from work to manage symptoms. But with the right support, it doesn't have to be this way. Says Kathy Abernethy, Director of Menopause Services at Peppy and immediate past Chair of the British Menopause Society: "Getting support at work to make your work life better while experiencing symptoms is vital. The important thing to remember about the menopause is that the symptoms don't last forever. Symptoms like hot flushes, poor memory, and loss of mental sharpness are hard to live with. But, these things usually improve once you're past the menopause. With the right support, your career can thrive."
Menopause is not synonymous with 'end of life' – these women are proof that life can begin again in mid-life. Ask your HR team about the menopause support pathway in your workplace. And find out about the great menopause resources and support at Peppy.