A miscarriage is clinically diagnosed as a pregnancy loss before 23 weeks' gestation. While baby loss is incredibly common and traumatic to go through, it is often swept under the rug.
But now, more high-profile stories of miscarriage are in the news, such as Carrie Symonds and model Chrissy Teigen, and are breaking the taboo.
And why shouldn't it be talked about? Says Francesca Steyn, Peppy's Director of Fertility Services and current Chair of the Royal College of Nursing Fertility Nurses Forum: "It's the loss of a baby and that's really what needs to be recognised. A miscarriage is massively traumatic".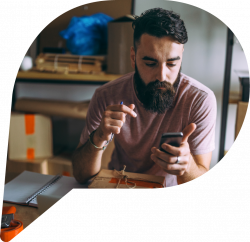 Miscarriage affects more people than you might think.
One in four pregnancies end in miscarriage with 85% in the first trimester. It is estimated one in 100 couples trying for a baby will experience three or more consecutive miscarriages. 
But what causes miscarriage?
Tommy's, the charity that supports people who experience miscarriage, says research suggests a pregnancy needs to pass a series of early checkpoints such as fitness signals from the embryo and hormone balance. If an embryo fails at any of these checkpoints it is more likely to end in miscarriage.
The physical and emotional trauma can be immense for a woman experiencing miscarriage. However, her partner's feelings can get overlooked. "They're not physically going through it, but emotionally they are experiencing the same feelings of loss and grief. Having to be strong for their partner and bury their feelings can really take a toll," says Francesca.

Facing colleagues after miscarriage can be traumatising. 
"Having already told people that they're pregnant but then having to share with them that it's ended in miscarriage is just too much to face. I've had patients ask me to write them a sick note so they can avoid it. In fact they shouldn't have to go back into work immediately and there should be a policy in place to support them," admits Francesca.
Shame is also sadly attached. "That feeling that you got pregnant but couldn't keep your baby can sadly make women feel ashamed," says Francesca. "They don't want people to pity them or feel sorry for them and as a result may not want to talk about it".
What's the impact on business?
Staff who have experienced miscarriage are likely to need several days off work to cope with the physical and emotional pain. Depending on their stage of pregnancy and individual circumstances, this may be longer.
"We have to recognise that the traumatic event that they're going through is grief and they're dealing with a loss, just like any other loss. So they're not going to be able to concentrate completely on the task in hand," says Francesca.
Impact on mental health and productivity of employees
 
Research by Imperial College London found that a month on from experiencing miscarriage or ectopic pregnancy, nearly a third of women suffer from post-traumatic stress, a quarter experienced severe anxiety and one in 10 had moderate to severe depression. 
Says Francesca: "A miscarriage can be massively traumatic, especially if you've been struggling to conceive for a long time only to lose the baby. A miscarriage is diagnosed when you lose lots of blood or you go for a scan which shows that your baby has no heartbeat. It may necessitate surgery to remove the baby. Again, hugely traumatic and painful".
Experiencing miscarriage impacts future anxiety about having children or trying to conceive. A study by Tommy's and University of Birmingham estimated that miscarriage costs the UK at least £471m a year. There is a direct impact on health services and lost productivity – and that's without taking into consideration the longer-term physical, mental and reproductive impact.
What support can employees expect?
Incredibly it's common for little to no support to be offered to employees after losing a baby and statutory miscarriage leave is not a legal requirement. In many cases the only option is to take pregnancy-related sick leave at a drastically reduced rate of pay. This means couples have to endure financial worries on top of their loss.
But some organisations are at last bucking the trend. Channel 4 and Monzo are now giving paid time off after baby loss. Bumble have just launched a minimum 15 days paid leave for male and female colleagues who experience miscarriage or baby loss. 
For companies that need a policy in place to support people going through miscarriage The Miscarriage Association offers great advice on how to draft it.
Is a miscarriage policy enough?
"Employers should offer more than just paid leave. A miscarriage policy may include offering flexible working and time off for the grieving process, as well as support groups and counselling," says Francesca. And offering support will help foster a relationship of trust. "With such a policy in place, staff are likely to feel more comfortable being open about what's going on. This is much better than feeling they have to keep it all a secret for fear of their boss knowing that they're trying to have a baby could affect their future career".
Peppy can help too, offering:
Emotional support with a qualified mental wellbeing practitioner.

Information about how and why the miscarriage might have occurred,

Free confidential one-to-one chats or video consultations with a fertility practitioner

And access to vetted resources.
This is unique and bespoke HR support and much better than Google searching.
Coping with the return to work
In cases where a member of staff informs their boss or HR team of their miscarriage, offering to tell colleagues can be a good move, making re-entry a less stressful experience. "What's more, in a fairly big organisation there'll be other people who will have experienced miscarriage too, who can offer support and give them the opportunity to talk about it if they want to." adds Francesca.
If you're returning to work after a miscarriage decide what you want colleagues to know. 

Tell a boss or work friend who can share the news and take the pressure off you. 

Ask your HR team in advance of your return what support is available in your company.

Don't be afraid to ask for help, flexibility or time off if you need it.
Managing a bereaved colleague
It's important to know that the grief of baby loss will not pass quickly. "It's vital to have an open-ended policy by which support isn't just available now but for a long time. Affected staff will need access to counselling, to open conversations with their line manager. They may also require flexible working, especially around emotionally painful dates like the anniversary of the miscarriage," says Francesca.
Be flexible about their return to work and make sure they know the pathway to support within your organisation. 

Make sure you check in with them, rather than ignoring them when they're back and hoping for the best. 

Give them the opportunity to talk about their challenges if they need to.
Conclusion

Affecting 1 in 4 couples, miscarriage and pregnancy loss will impact people in your workforce. 
Having a miscarriage policy in place will foster a relationship of trust and support.
Support for your people doesn't have to be expensive or complicated. Consider Peppy for personalised, expert miscarriage support as part of its Fertility service. 
Visit https://peppy.health/verticals/fertility/ for more information.