Employers, it's time to talk about infertility
Issues with infertility can affect a surprisingly large number people.
According to The World Health Organization 8–12% of couples worldwide experience infertility, and the diagnosis and treatment puts a heavy psychological and physical burden on most patients, both female and male. And yet this matter often remains hidden.
What this means for your workforce is that for those wishing to start a family, now or in the future, knowing they have workplace fertility support from their employer will be crucial. It's an issue that HR professionals cannot ignore. Being informed is essential, so staff can be treated with sensitivity as well as practical help.
Francesca Steyn, Peppy's Director of Fertility Services and Chair of the Royal College of Nursing Fertility Nurses' Forum says "Fertility is often your first opportunity to support your people during a significant stage of their life. Rising younger talent want to know that you're committed to their future. You're more likely to retain your best talent if they are satisfied".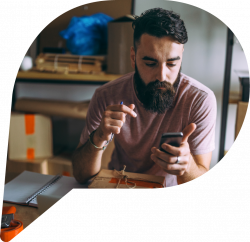 The problem of infertility
One in six couples struggle to conceive. Fertility treatments can take a huge toll on mental, physical and emotional health. As a result 90% of those experiencing fertility problems report feeling depressed, with 85% of people going through IVF saying their work has been negatively impacted.
There are different types of fertility issues potentially affecting different sectors of your workforce:
People trying to conceive – an estimated 1 in 2 couples are doing so at the wrong time.
Those coping with miscarriage and loss – 1 in 4 pregnancies ends in miscarriage or loss, causing huge levels of grief for all parties involved.
People going through fertility treatment, potentially including your LGBTQ+ community.
And don't forget that male factor infertility is responsible for up to 50% of infertility cases, so men are affected too. In all cases, partners are impacted by infertility issues even if they're not physically affected.
That's a lot of people potentially dealing with fertility issues in your workforce.
The last taboo
Fertility issues are somehow more stigmatised than other areas of women's health. Despite infertility being relatively common, having kids is seen as a societal norm. This means people who don't conform are potentially at risk of experiencing stigma of different kinds. Thoughtless or even judgemental comments can lead to a sense of shame.
Now, the once taboo subject of menopause is being widely discussed, and companies are drawing up workplace menopause policies to offer to employees. It is also time for fertility issues to be given greater prominence in the workplace.
The impact on employees
When she was unable to conceive Claire, now 35, didn't tell anyone at her work about her fertility treatment. "Becoming a mother was a huge priority for me, so failure to conceive and the invasive tests were traumatising. We got so little time to ask questions and I often felt in the dark about what to expect. When you're going through a cycle of IVF it's incredibly intense. Eventually the disruption, physical effects and anxiety got to me so badly that I couldn't function."
"Just getting into work was an effort. My treatment was constantly distracting me and I was struggling to cope with the job I loved. My work involved travelling and worrying about not being close to home when I needed tests or more treatment was overwhelming. Added to this I had a pregnant colleague whose maternity leave I was about to cover, and she kept saying how great it would be if I got pregnant so she could do the same in return. Even when I said, 'It's not that easy,' she didn't take the hint. She kept going on about it, which was so upsetting".
Eventually Claire left her stressful job for one that involved less travel. "More open this time, I was allowed time off for appointments when I had IVF treatment. Luckily for me I got pregnant after one round," she says. 
Side effects
Fertility treatment can be gruelling. As well as self-injected hormonal treatments, scans, surgical egg collection and embryo transplant, side effects can include swollen ovaries, PMT symptoms, migraines, cramping and bleeding. And with standard IVF treatment costing between £4,000 – £8,000 per cycle (HEFA), there is also the financial worry to factor in. "Fertility treatment is all-consuming, causing a lot of anxiety and depression. In fact, 90% of men and women struggling with infertility experience feelings of depression and 42% feel suicidal," says Francesca.
The impact on business
"You can't concentrate if you're going through fertility treatment. You're fretting about how you're going to explain the next appointment to your boss or waiting to find out if the embryo transfer worked," says Francesca. As a result, 85% of people feel fertility treatment has a negative impact on their work. 19% reduce their hours or leave the workplace altogether.
Finding employers who will support their family plans has become a priority. Millennials, the largest part of the workforce and rising talent, are prioritising employee benefits and workplace wellbeing over salary. Leading employers are taking note.
The pandemic has exposed a lack of suitable health benefits offered by some employers – and those who just pay lip service to the wellbeing of their staff. In fact, 88% of employees say they would consider changing jobs for fertility benefits.
Says Francesca: "People are looking for inclusive organisations that are flexible, welcoming and supportive of families. And of course, 'family' is made up of all different kinds of scenarios. To attract and retain the best talent, fertility support should be a core part of your company culture. Because more and more people want to work for an employer that is supportive of their life goals as well as their professional ones"
What employers can do
In a survey by health support company Carrot, just 12% of respondents have access to fertility or family-forming benefits at their current jobs. Francesca says: "In the past employees didn't tend to be open about fertility issues, perhaps fearing it may affect their career prospects. It's possible that employers didn't think it was an issue. But nowadays more organisations are aware and want to support people that are going through fertility struggles. Considering that 1 in 6 couples will be affected by fertility issues, it pays to be the kind of company that offers appropriate support".
Claire says: "Looking back, it would have made such a difference to my mental health and career if I'd had support and been able to be open about my fertility issues from the outset. Being able to get answers to the many questions I had during this phase of my life would have made this difficult phase of my life far more tolerable and less anxious". 
Improving company support
"Start the conversation about fertility," says Francesca. "If line managers and senior leaders talk openly, the conversation will begin to flow more naturally. Be clear that you have an open-door policy. Make the pathways to fertility support obvious, so your people know where to go."
"Think about updating or introducing a fertility policy, or extending private medical insurance to cover fertility. With Peppy's team of fertility practitioners from all over the country we are able to provide the support and advice that's just not available elsewhere. This includes underrepresented groups, such as single women or LGBTQ+ families."
Offer personalised specialist support and advice from a team of fertility practitioners. Signpost the support that's available so staff do not have to ask. In the Carrot survey 31% said they wouldn't feel comfortable asking their employer for fertility benefits.
The most important thing is not to brush this issue under the carpet. "Make sure everyone in the organisation is aware of what fertility issues and treatments can entail," says Francesca. "They are probably affecting more of your colleagues than you know".
Find out more about how Peppy can help support employees going through workplace fertility issues.
SOURCES
https://modernfertility.com/blog/research-on-infertility-stereotypes/
https://www.get-carrot.com/blog/fertility-benefits-at-work-survey-highlights-significant-gaps-in-access