Menopause and the Gender Pension Gap – what's the connection?
On average women's pensions are worth less than their male counterparts'. How does the menopause impact on this?
Men's pensions are, on average worth £100,000 more than women's after a 44-year career. However women should be saving more than men because on average they live 3.4 years longer. And the menopause plays a big part in this discrepancy.
Says Angela Kirkwood, Senior Pensions Policy and Proposition Development Manager at the Money and Pensions Service: "Women really should be saving 5 to 7% more than men to cover the rest of their life in retirement. But it's not the pay gap between men and women that's the biggest driver of the discrepancy in the size of pension pots. It's the time out of work and part-time working for longer within women's careers".
Leaving the workplace early
The factors that are affecting women's pension pots include leaving the workplace early and going part time. These often coincide with the time in a woman's life when she goes through the menopause. This can be a difficult time for some women, negatively impacting on their careers.
Says Kathy: "Of course half the population will go through the menopause and that represents a huge chunk of the workforce. The average age of menopause is around 51, but we must remember that some will go through it much younger than that and those women will experience the impact for much longer".
The working life of women has changed dramatically in just one single generation. This means that 71% of those going through menopause will be at work. They will be facing work problems at the same time as they're experiencing perimenopause, which can last for years in some cases. This natural hormonal change can have a huge impact on women at work, as it can mean working while enduring hot flushes, sweats, tiredness, loss of concentration, memory issues, brain fog, and a whole raft of accompanying symptoms.
"The menopause can create a real hump in the road for working women. They may love their job and be very competent at it. But, sometimes it needs to be done differently while they are menopausal – which means discussing it with their manager," says Kathy Abernethy, Director of Menopause Services at Peppy and immediate past Chair of the British Menopause Society.
"We know that one in four women consider leaving their job just because of the menopause, partly because they don't feel they can ask for the adjustments that they might need in order to get on with their work. It can be a sticky issue to discuss with your manager, colleagues and peers. And this is why some women are choosing to opt out of work or to go for a lesser job, which will have a tremendous impact on their pension later on".
Affect on promotion
And for those women who do stay on in their job, the menopause may well impact on their ambitions. This means they are less likely to put themselves up for promotion, training or new roles.
Says Max Landry, co-founder and co-CEO of Peppy: "There's this large cohort who effectively won't leave, but will not go for the promotion. They will not push themselves in the way that perhaps their male peers do. This will obviously impact the gender pay gap, which then impacts the pension deficit between men and women".
The impact of leaving
Sadly, large numbers of women leave careers they love, simply because the struggle to commute and work through menopausal symptoms can be too great.
Says Vickie Copeland, Regional Partnerships Manager for West London for the Money and Pension Service.  "When I went through the menopause, the symptoms I experienced definitely did change my working life. Heart palpitations made me feel extremely panicked. As I had a long commute to work, I soon discovered the horror of having a panic attack behind the wheel on the M25. It actually felt dangerous and got to the point where I actually felt I couldn't continue with that journey, so I resigned. I reluctantly left an employer where I'd had a really good 11-year career in a senior leadership team position.
Soon afterwards, while working in a different job that felt more manageable, I received a letter from my employer asking me to move my pension pot within six months. This panicked me at the thought that I might lose this pension pot I'd invested into for 11 years. I wanted to make sure that it was in a safe place but didn't really know where to start because this wasn't something I'd ever considered before."
"I was pretty naïve about it and I think my experience is probably quite normal. It would have been nice to have some guidance, as could the many women who must find themselves is a similar position. I would have appreciated some signposting to an organization that could advise me. This is what employers should really think about for their staff who go through this".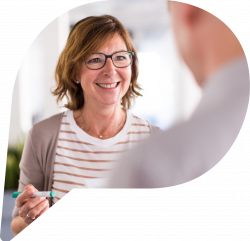 The cost of women quitting
In a workplace it's not just the person experiencing the hormonal changes of the menopause that gets impacted, but also her colleagues and the productivity of the organization where she works. What can an organization do to support staff going through this natural life stage? While the menopause is not a protected characteristic under the law, it fits into existing legislation under the gender act and health and safety, as well as age equality and age discrimination. Furthermore, it makes financial sense to be helpful and open-minded.
Says Kathy "There's a big social responsibility as well because HR teams look after staff wellbeing and menopause comes under that umbrella. What's more, if you think about the investment side and the financial side of this issue, companies are losing hugely experienced women, often in senior positions. This is simply because they do not feel supported or understood at this crucial time in their lives."
"These women quitting the workplace is a real financial loss to their employers. It will cost a lot of money to replace them, to train somebody else up to do the job. These are just some of the reasons why it's really important that employers address menopause both on an individual level, but also on a corporate level".
How divorce plays a part
Another important factor impacting on women's pensions is divorce. Statistics show that 50% of women go into a divorce very ill prepared on the financial side. Says Angela: "There has been a law in this country for a number of years stating that pensions should be taken into account when a financial settlement is being made. Yet of the 118,000 divorces in 2018, only 4,000 actually had pension orders attached to them".
It's very worrying indeed that it's not standard that both partners' pension pots are considered part of a divorce settlement.
Conclusion
Says Kathy, "When I talk to people about the menopause, it's never just about their hormones. It happens at a time in life when we are hit by lots of other things at once. So if employers can put in place personalized support, such as we offer at Peppy, it can really help them while making that transition through the menopause. We're not only addressing their menopause symptoms. We're also pointing them to places and people that can support them in other ways they may need".